The Futures School Metro Detroit: Mapping the Future of Education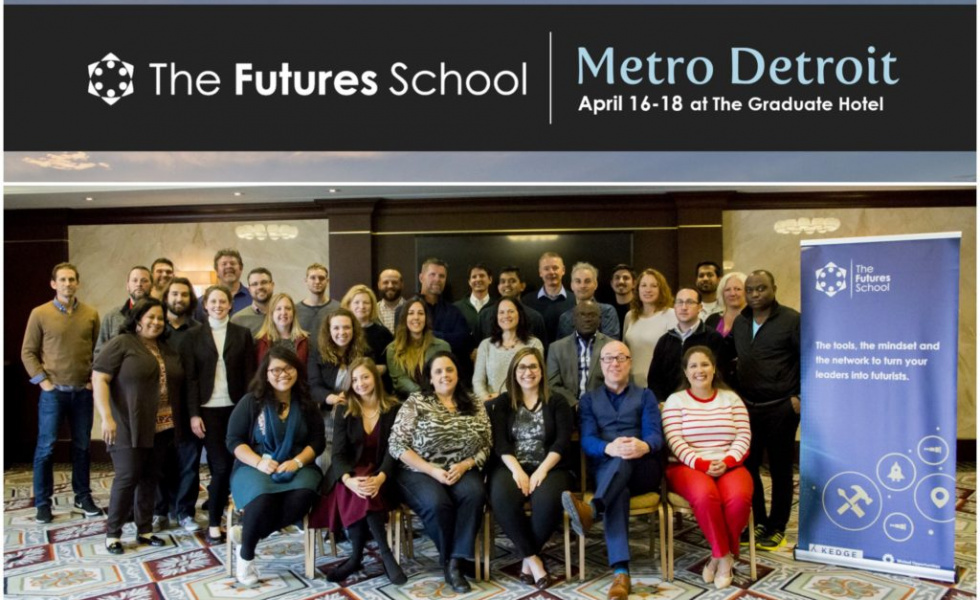 "My joy knows no bound to have been part of the TFS Detroit cohort. The new skill sets will be most useful going forward back in my home country of Nigeria with a view to begin to change the narratives and upscale the practice of Marketing and Media Planning/Buying."

Olaleye Ajayi, CEO, Multimedia Marketing Concept Lt – TFS Metro Detroit Alumnus
In our volatile, uncertain, complex and ambiguous environment, Strategic Foresight is useful and applicable to every individual since it allows us to anticipate change and stay ahead of the curve.
The Futures School Metro Detroit gathered nearly 30 participants from industries spanning apparel, automotive, banking, higher education, oil and gas, design and beyond. They joined us from near (Michigan firms – Ford, Carhartt, 24G) and far (two individuals from Nigeria) representing executives, students, entrepreneurs and professors. This accomplished group of professionals demonstrated the power of fusing together backgrounds, expertise, generations and cultures to unleash transformational outcomes.
The Futures School is a project-based program diving into Kedge's practical Strategic Foresight framework: Natural ForesightⓇ. To apply the Natural Foresight Framework of Discovering, Exploring, Mapping and Creating the future, we put experiential learning into practice by selecting a focal issue for each cohort to analyze. The TFS Metro Detroit group navigated the future of education.
The Future's School is "engaging and accessible. I walked away from the sessions knowing I have practical skills I can apply to my human-centered design strategy work."

Smile Indias, Associate at MICA Center for Social Design – TFS Metro Detroit Alumna
Over the three days in Detroit, the unique TFS toolkit was used to uncover assumptions and biases; scan the external environment for drivers, trends and patterns of change; map implications to develop divergent scenarios of the focal issue; and, discuss strategic design tools. Within small groups, participants explored the future of education through either a transformative, market or fortress world lens.
Few topics elicit passionate debate like the future of education. Each TFS participant approached the focal issue from their unique perspectives framed by their background and role. For instance, some individuals represented organizations concerned about the future of work and talent. Others were interested in how education must be reframed on a global scale to provide unbound access and immersion. In addition, it was clear this issue had both a professional and personal impact to almost everyone in the room.
Using trend cards informed by the TFS research brief on the future of education, teams identified emerging patterns such as "digital responsibility", "adaptive training", "global me", and "borderless brainstorming." They then created narrative scaffolds showcasing how trends, patterns, value shifts, and implications would manifest in their assigned scenario world. Day three culminates with connection between foresight and storytelling, and participants sharing their group's scenario/narrative with the rest of the cohort (i.e. day in the life, storyboarding, skit, etc.). We were quickly immersed in the worlds they built which all included research, creativity, data and intuition.
We should also mention that the cohort had some fun with this exercise too…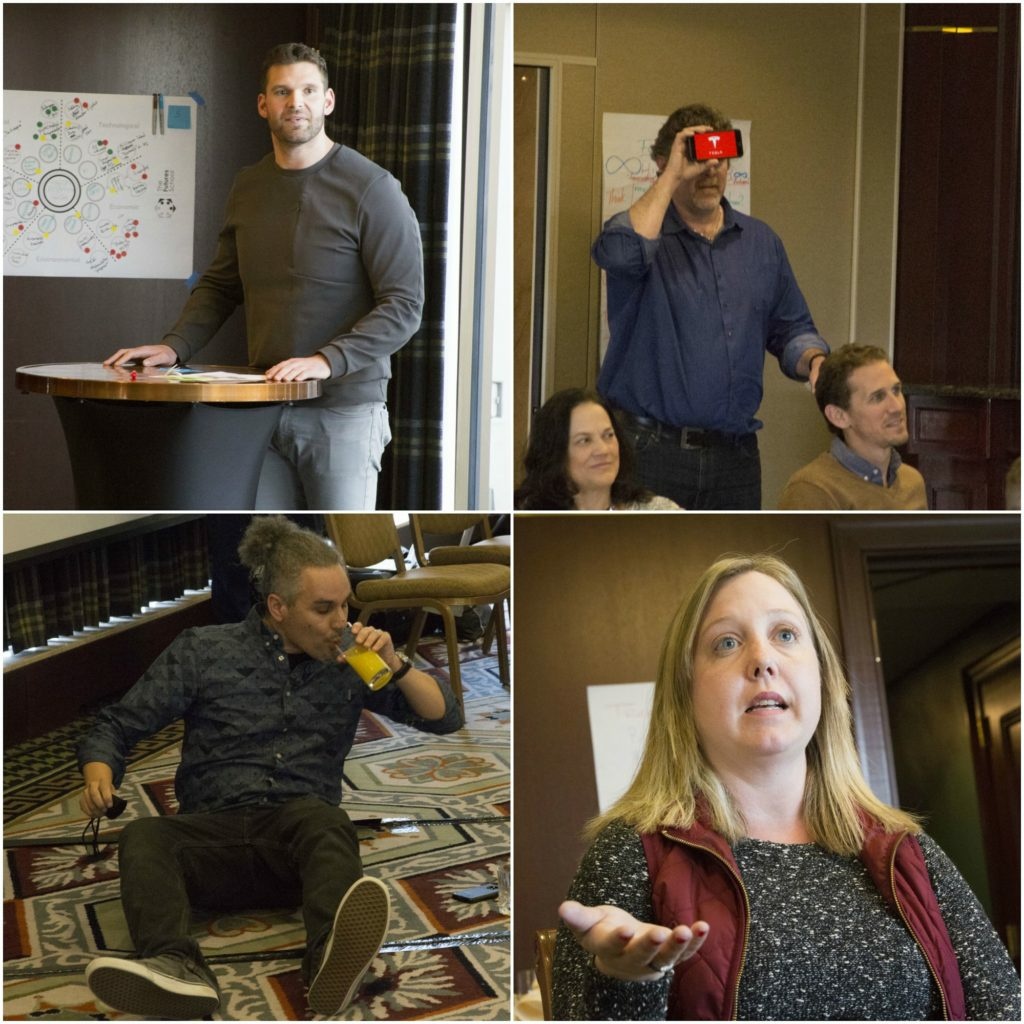 "This experience was great. I can't wait to take the process and tools to our organization. By having three of us attend, we already have our co-conspirators."

Jon West, Senior Manager of R&D, Carharrt – TFS Metro Detroit Alumnus
Beyond applying the Natural ForesightⓇ framework, each TFS session also includes a first-hand account of foresight in action from one or more alumni. In Detroit, we invited three alumni to join us during lunch on the final day for a panel discussion. It was not long ago that these individuals were in the same shoes as our newly minted Detroit futurists. What better individuals to share their experiences integrating foresight into their professional and personal lives once they left TFS? Panelists not only detailed foresight best practices but also had some unexpected pointers:
Be wary of labels. Depending on your organization's culture, the term "futurist" may not be taken seriously hindering your ability to drive change. Focus on providing a future-empowered decision rather than your title. Otherwise, you may have the C-suite asking you about your jet pack!

There is not a common start to landing in the field of strategic foresight. It turns out that librarians and chemists can make pretty awesome futures thinkers!

Water bears (tardigrades) are keeping one of our panelists "up at night."
Our panelists included:
Mirth Hoyt, Market Analyst, Strategic Marketing and Innovation, Eastman Chemical

Robin Jourdan, IT Futurist, Ford Motor Company

Travis Kupp, Principal Business Consultant, Corporate Strategy, AAA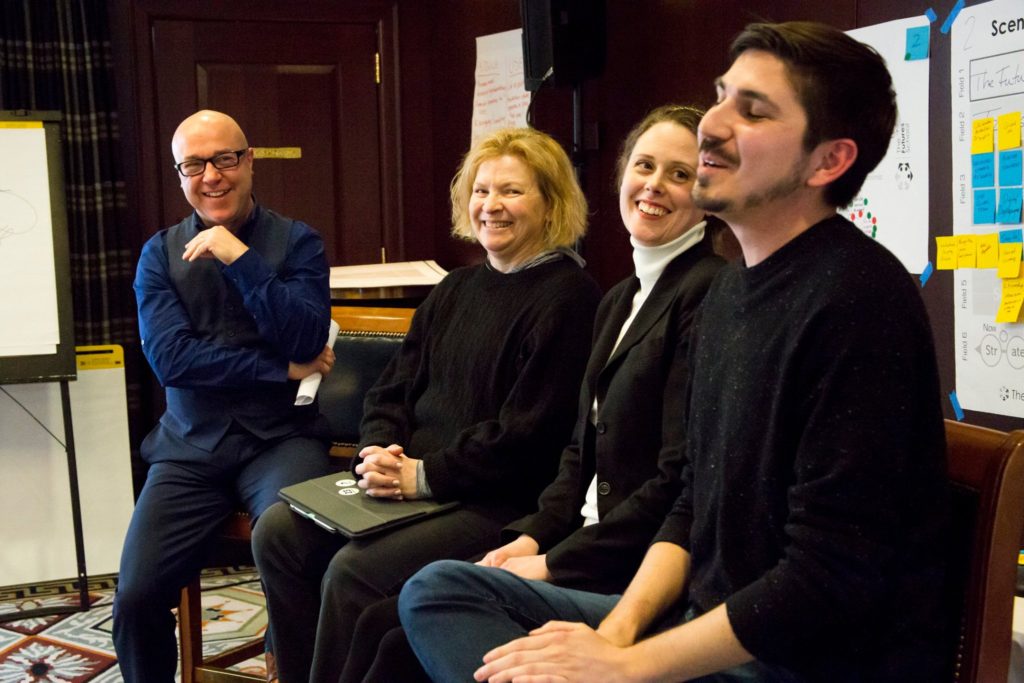 The three days came and went quite quickly. Our newest alumni were challenged to reimagine the future of education, and how they can be active change agents in guiding a new narrative today. The TFS team is thrilled to have another 30 futurists empowered to transform the future.
"Thanks for adding to my life with a full assurance and confidence about the future. It's great when the fears and doubts of the future melts away which is opposite of what you find in the financial world e.g. stock and shares options."

Timothy Jaiyeoba, Planner 1, Community Special Projects (CSR), Community Relations Department, Addax Petroleum