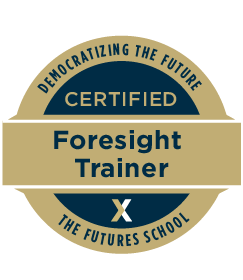 Certified Foresight Trainer
Transferring foundational foresight knowledge to others.
Certified Foresight Trainers (CFTs) must show mastery of the cadence, structure and terminology that is needed to effectively communicate Natural Foresight® principles. They have successfully demonstrated the ability to integrate foresight into their profession or field. Trainers are able to guide others through the process and successfully transfer foundational Strategic Foresight knowledge.
---
Elegibility
WHO MAY APPLY?
Candidates who are in good standing of the Certified Foresight Influencer designation and meet the below CFT eligibility criteria are invited to apply.
Please note that there is an application review process (inclusive of a non-refundable fee) to determine eligibility.
Eligibility Factors Considered:
Candidates must meet all of the following criteria:
Foresight Facilitation: Applicants must prove that they have facilitated foresight training to participants and share the learner outcomes from the session. The following detail the specifics of this requirement:

Submit at least one recorded video facilitating the content in-person or live-online. An audience must be present
The program submitted for review must be at least ½ day in length with 20 or more participants.
Share at least 20 completed participant program evaluations. The evaluations must measure results (from the session) based on levels one and two of "The New World Kirkpatrick Model." The evaluation team will offer a sample evaluation template, if needed.

Level One: Participant Reaction (Satisfaction, Engagement, and Relevance)
Level Two: Participant Learning (Knowledge, Skill, Attitude, Confidence, and Commitment)
Foresight Experience: Applicants must demonstrate proven foresight experience. This may be validated in one of two ways:

3+ years of practical foresight experience – direct role, dedicated time, or volunteer work.
Completion of a foresight Masters degree or Phd program from an approved institution.
Foresight Project Participation: Applicants must prove they've actively led a foresight project and articulate the outcomes to-date.

Serve as the lead or co-lead on the project.
The project must be less than three years old.
Provide a reference to confirm project leadership.
---
Assessment
HOW AM I EVALUATED?
Live-online 90-minute oral assessment with the following components which will not be shared with the candidate in advance of the examination:

Live demonstration of pattern and sensemaking.
Answer complex questions from "mock" participants that stem from an advanced understanding of the philosophies and application of tools within The Guide to the Natural Foresight® Framework.
Respond to a situational question regarding one of the four areas of impact.
How do I prepare?
The Certified Foresight Trainer eligibility requirements are in place to ensure that applicants have proven experience generating transformation through foresight and are well positioned to transfer foundational foresight knowledge to others.
The Guide to the Natural Foresight® Framework is the Professional Foresight Certification Body of Competency and Knowledge, and the official study guide for the Certified Foresight Trainer assessment. The Guide will serve as a resource to supplement an applicants' knowledge and experience.
Testing Window and Deadlines
There are no designated testing windows or application deadlines for the Certified Foresight Trainer.
Applications are welcome whenever the eligibility requirements are met.
---
Process & Fees
How to get certified
Complete an application.
Contact the TFSX Team to complete a Certified Foresight Trainer application at any time the eligibility requirements are met. A non-refundable $250 USD application review fee is due at the time of submission.
Conduct an interview.
If your application has been accepted, TFSX will schedule an interview with you to further discuss your purpose for pursuing certification, eligibility, and assessment details. 
Submit certification fee.
Successful candidates will be notified and proceed with the full assessment fee ($5,000 USD) payment. Next, the live-online 90-minute oral assessment will be scheduled and the examination rubric will be provided. The candidate must pursue the assessment within three months of payment. If there is a reason the assessment needs to be rescheduled by the candidate within the three-month timeframe, there will only be one opportunity provided and it must be at least 24-hrs in advance of the testing date/time.

What if I'm not accepted?
If your application is not accepted, we will send you information on how to re-apply.
Complete the oral assessment and receive results.
After the completion of the oral assessment, the evaluation team will review performance. Results will be delivered to the candidate within one month.
An 80% or higher is required to pass the CFT assessment.
After signing the Certified Foresight Trainer Rights and Responsibilities agreement, newly minted CFT's will gain access to:

Receipt of the digital tool-based Natural Foresight® modules
Authorization to deliver the Natural Foresight® Framework without replication of a TFS program design and cadence (detailed in the Rights and Responsibilities agreement)
Access to tool updates

What if I fail the assessment?
If you don't score an 80% or higher, you will need to continue studying and gaining practical experience before re-applying in six months.
Application Processing Fee
$250 USD
Successful candidates will be notified, proceed with the full assessment payment, and schedule the live-online oral assessment.
Assessment Fee: $5,000 USD