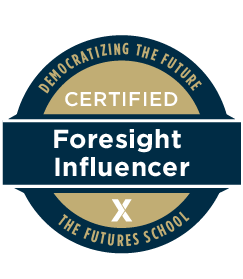 Certified Foresight Influencer
Generating transformation through foresight.
Certified Foresight Influencers (CFIs) have extensive knowledge of the tools and methods within Natural Foresight®, including advanced concepts. CFIs will have published works or otherwise established themselves as a thought leader in the use of foresight in their respective profession. Influencers are able to generate tangible organizational support and transformation through the implementation of robust futures work.
---
Elegibility
Who may apply:
Candidates who are in good standing of the Certified Foresight Practitioner designation and meet the below CFI eligibility criteria are invited to apply.
Please note that there is an application review process (inclusive of a non-refundable fee) to determine eligibility.
Eligibility Factors Considered:
Two of the following four criteria must be met:

Speaking: Applicants must showcase proof of performance for at least one session where they spoke explicitly on foresight to an audience (in-person or live-online). To validate this requirement the applicant must submit either a session evaluation or a video recording (preferred). Applicants must also provide a reference to confirm participation.
Writing: Applicants may submit foresight-specific writing and/or research that is published by a third-party (blogs will only be considered if they are 500+ words). Only published primary research will be reviewed.
Association of Professional Futurists Emerging Fellows Program: Applicants must have completed the program, submit a writing product from their fellowship year, and provide a letter of recommendation from the APF.
Foresight Organizational / Institutional / Non Profit Impact Project: Applicants must prove that they actively participated in a foresight project using foresight approaches, methodology, and/or tools. The project objective(s), length, applicant's role, number of participants engaged, and status will be required and kept confidential. A reference will be required to prove the applicant's involvement in the project and extensiveness of the contribution.
---
Assessment
A Certified Foresight Influencer candidate must submit a Natural Foresight® portfolio on an approved project topic.
How am I evaluated?
One-page Portfolio Project Abstract based on a "mock" or actual issue that is broad with long-term impact (approved or denied – one Abstract rewrite allowed)
Natural Foresight® portfolio where the applicant will apply their issue to a number of foresight tools (an 80% or higher is required to pass)

Template/rubric is provided to applicants
Must complete the portfolio within three months
The evaluation team will take up to one month to review your submission
How do I prepare?
The Certified Foresight Influencer eligibility requirements are in place to ensure that applicants have proven experience applying and embedding foresight into their work and life. With this experience, an applicant is well positioned to pursue the CFI assessment.
The Guide to the Natural Foresight® Framework is the Professional Foresight Certification Body of Competency and Knowledge, and the official study guide for the Certified Foresight Influencer assessment. The Guide will serve as a resource to supplement an applicants' knowledge and experience.
Testing Window and Application Due Dates
There are no designated testing windows or application deadlines for the Certified Foresight Influencer. Applications are welcome whenever the eligibility requirements are met.
---
Process & fees
How to get certified
Complete an application.
Complete a Certified Foresight Influencer application at any time the eligibility requirements are met. A non-refundable $250 USD processing and application review fee is due at the time of submission.
Conduct an interview.
If your application has been accepted, TFSX will schedule an interview with you to further discuss your purpose for pursuing certification, eligibility, and assessment details.
Submit a Portfolio Project Abstract.
Successful candidates will be notified and asked to submit a one-page Portfolio Project Abstract, using the provided template, for review. At this time, a $300 USD deposit is due (20% of the total assessment fee of $1,500 USD). The evaluation team will review the submission and provide an approval or denial within two weeks.

If the first attempt is not approved, one Abstract rewrite will be allowed.

What if I'm not accepted? If your application is not accepted, we will send you information on how to re-apply.
Submit outstanding assessment fee.
When the Portfolio Project Abstract is approved, candidates must submit the remainder of the assessment fee ($1,200 USD) to receive the Natural Foresight® portfolio template and rubric. The portfolio is due within three months.

Complete the portfolio requirements.
When the Natural Foresight® portfolio is submitted to the evaluation team, it will take up to one month to review. An 80% or higher is required to pass the CFI assessment. Successful candidates will receive their signed certificate along with digital credentials for use online.

What if I fail the assessment? If you don't score an 80% or higher, you will need to continue studying and gaining practical experience before re-applying in six months.
Application Processing Fee
$250 USD

Certification Fees:
Successful candidates will submit a 20% deposit and then will pay for the remainder of their assessment when ready to pursue the portfolio.

20% Assessment Fee Deposit
(Due upon submission of one-page portfolio topic / focal issue): $300 USD

Remainder of the Assessment Fee
(Due when topic approved): $1,200 USD)