Prepare for the Certified Foresight Practitioner exam
overview
The On-demand Foresight Certification Prep course provides you with additional resources to give yourself the best chance to succeed on the Certified Foresight Practitioner assessment. You'll gain details about the designation and assessment, study tips, clarification on more challenging concepts, additional practice questions, and access to a community of others pursuing the exam. All of the information in this self-guided course will supplement the official study material, The Guide to the Natural Foresight® Framework. Study for your exam anywhere you want with the support of this curated content.
Within six months (180 days), you will be able to:
Learn important details about Professional Foresight Certification
Support your review of the official study material, The Guide to the Natural Foresight®
Build confidence in the Natural Foresight® Framework and respective tools
Gain additional study content and practice questions
Access other individuals who are studying for the program to share tips or form study group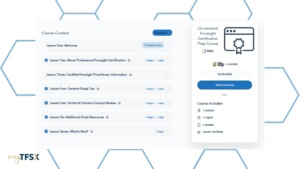 Important Details
Course Location: my.TFSX, your personalized foresight operating system. You will need a free member account to begin the course.
Course Fee: $150 USD
Course Duration: Access for six months / 180 days from sign up
Course Format: On-demand, self-paced (7 lessons, 17 topics, 4 quizzes)
This course does not replace the need to deeply review the official preparation document, The Guide to the Natural Foresight® Framework.
This course does not count toward the Certified Foresight Practitioner eligibility criteria of completing prior foresight training from an approved program/institution.
This course is separate from the Certified Foresight Practitioner application / testing process.
The purchase and completion of this course does not unlock access to the Certified Foresight Practitioner alumni assessment rate. You must earn a certificate of completion from one of the following TFSX programs to access the alumni application / assessment fee: Foundations in Natural Foresight®, Activations in Natural Foresight®, or Transformations of Natural Foresight®.
Start now on my.TFSX