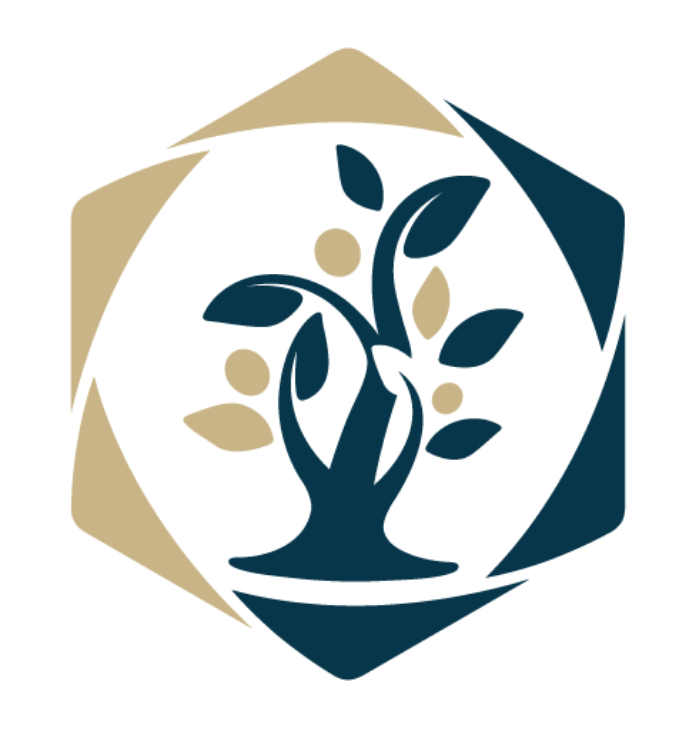 Foundations in
Natural Foresight®
Collaborate alongside professional futurists and global thought leaders to apply foresight tools to a real-world issue.
About
Join our flagship program, Foundations in Natural Foresight®.
Participate in an interactive think tank that empowers you with the critical skills of Strategic Foresight and Futures Thinking for a new era of complexity and change.
Expand your network while collaborating with 30 global leaders who share a passion for transformation
Learn and apply the most widely used foresight framework
Drive to impact as you navigate a real-world issue (i.e. democracy, AI)
Build the business case for foresight and gain the skills needed to inspire others
Earn a certificate of completion and qualify for Professional Foresight Certification
Receive unlimited access to digital course materials
Join an alumni community with 2,000+ individuals
Unlock subscriber access to my.TFSX for one month with access to step-by-step tool recipes
Develop your personalized learning plan at the conclusion of the program
Boost your foresight confidence whether you are new to the field or a seasoned practitioner
---
Experience
Program Design
One-on-one introductory call with each applicant
Live, online and in-person formats
70% of the program is hands-on application
Mural and Zoom platforms with a dedicated technical coordinator for a concierge experience
Modularized content around the Natural Foresight® facets: Discover, Explore, Map, and Create
Project-based curriculum using a relevant real-world issue and culminating in a set of scenarios
Ample breaks
Rigorous yet entertaining approach
Facilitators have 20+ years of foresight experience
Pre-work administered on my.TFSX two weeks prior to the experience which takes 2-3 hours to complete, inclusive of a leadership assessment
No homework assigned during the program
Private, online community for cohort participants
Tuition
Inclusive of experience, unlimited access to program materials, certificate of completion, one month of upgraded my.TFSX access, TFSX alumni membership
See program pages for more information.
---
Curriculum
High level content
Example Course Outline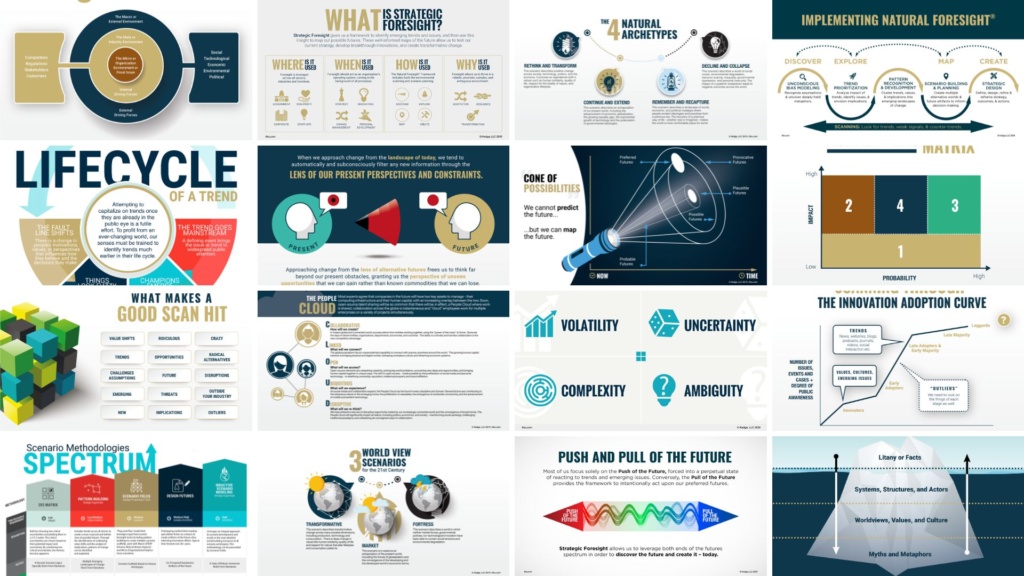 Tools utilized during the program to develop a suite of scenarios.
Modules One and Two: Welcome and Discover
Meet your cohort and acquaint yourself with the project topic that will be used during the program. Through an introduction to foresight, learn the fundamental ideas in the field, and the importance of employing Natural Foresight® principles and tools to thrive in a complex world. Dive into tools within the Discover facet to uncover personal and collective assumptions to recognize new disruptors on the horizon of business and society.
Modules Three and Four: Explore and Map
Jump into the Explore facet to move from traditional trend identification to futures intelligence and pattern development. Leverage your insights to develop short-, mid-, and long-term implications. In the Map facet, learn an introduction to scenario development to transform your insights into worlds that will invite "stakeholders" to suspend disbelief.
Modules Five and Six: Map and Create
Each team will use a plug-and-play tool to scaffold their scenarios and report out to the larger cohort. The Map facet will culminate in learning scenario planning tools to inform our present-day decision making. To conclude the experience, each individual will put the Create facet into practice by developing a personalized implementation plan while exchanging feedback with their peers.
---
Testimonials
What our alumni are saying:
"The concepts and tools that were shared in our TFSX training give me hope for the future. We have the ability to envision multiple futures and by using the tools that were shared, plan for various scenarios that will allow us to not only succeed – but flourish."
"This is an inspiring and transformative experience that will prepare you to be excited for the future."
---
Questions?
Not ready to apply just yet? Let's meet, get to know you, and answer your questions. Contact info@tfsx.com .