Sense, Mesh and Transform: The 3 Critical Mindsets for 21st Century Leaders
In today's rapidly changing environment, C-Suites, leaders and executives are at a loss as to what exactly they should do to lead their company into the future. Most are waiting for a return to an operating environment that is familiar and comfortable — or for the business models, processes and strategies of the past to lead them to success again. It's like they are waiting at the bus stop for the "normal bus" to arrive. For those who are clinging to this hope, I have bad news: the "normal bus" doesn't come this way anymore.
To avoid being a leader who is being pushed around by the landscape of volatility, uncertainty, complexity and ambiguity, new mindsets and skillsets are required. We must adopt three major shifts in the way that we think and act if we are going to thrive in today's rapidly changing business environment.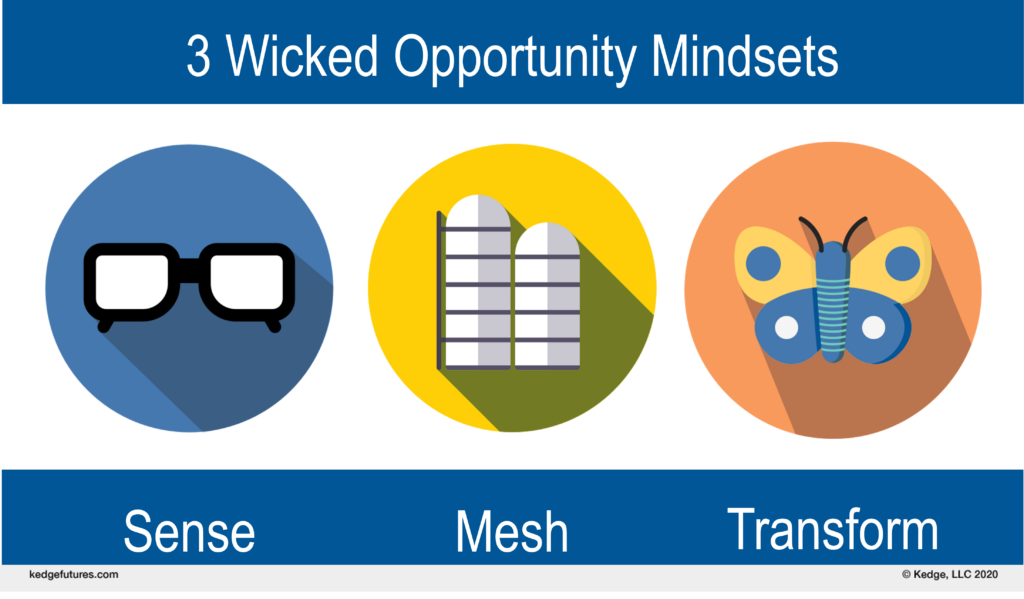 Shift 1: Sense
Trends in quantifiable technology, social algorithms and big data are exploding, but it is those who hone the skill of sense-making and pattern recognition who will truly be able to understand and leverage the world that is emerging around them. As a matter of fact, it is the quantum speed at which these ideas are unfolding that makes the human ability of holistic sense-making such a vital leadership mindset. This way of thinking is not only critical for looking beneath the surface of the fast and furious change, but allows us to envision the outcomes to the convergence of trends and complex situations so that we can "get ahead of the future."
Shift 2: Mesh
In this new era, we must "un-silo" disciplines and practices to foster the emergence of unique ideas and actions. This is the skill of intentionally creating the "spaces-in-between." As it turns out, the silos between disciplines have actually created many of our greatest problems and challenges, and the ability to explore the sweet spots between ideas and practices allows us to "dance with complexity." We can then purposely embrace, harness and leverage the emerging landscape in order to create unseen organizational models, strategies, innovations, experiences and services. We often frame the mindset of meshing as the ability to think in "simultaneous multiples," envisioning the expanding landscape of possible futures.
Shift 3: Transform
An increasingly complex world demands that we must move beyond incremental innovation into transformational thinking and invention. We often call this "creative destruction on steroids," noting that this mindset is about much more than being controversial or provocative for controversy's sake; it's about moving away from short-term thinking to long-term vision. In this environment of volatile change, leaders must be willing to "embrace the unknown" – the ability to go beyond the familiar confines of the known universe, and explore the unknown and not-yet-imagined ideas.
Agile and aspirational leaders are seeking ways to quickly learn these mindsets and skills, but the truly savvy among them understand that it's not enough to talk about these ways of thinking, read a few books on these subjects or hold a couple of brainstorming sessions at the office. A process and toolkit is needed to make these mindsets "sticky," and to integrate them within the practices and culture of our businesses.