The 3 Environments of Foresight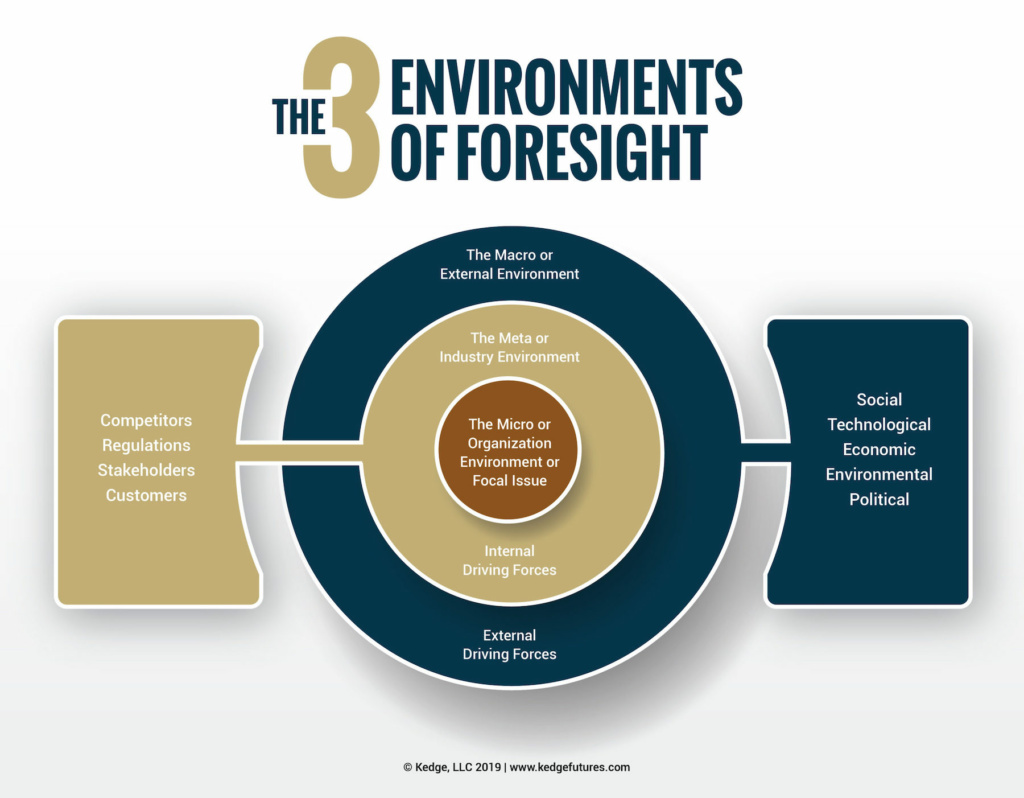 An excerpt from The Guide to Natural® Foresight Framework:
Horizon scanning is conducted across all three environments of foresight — Macro, Meta, and Micro.
The Macro, or External Environment
Foresight efforts begin in this broad environment, where drivers of change first emerge. Exploring trends and weak signals in the macro environment ensures that we do not become insulated in our subject-matter expertise. This also prevents us from being blindsided by changes originating from outside our industry and organization.
Futurists leverage the STEEP framework. STEEP is an acronym that stands for social, technological, economic, environmental, and political, representing the large-scale drivers from which trends are born.
The Meta, or Industry Environment
The meta environment includes competitors, customers, employees, and other key stakeholders. Horizon scanning in Strategic Foresight does not initially focus on the competitive intelligence or consumer insights space, but it does not ignore it. Most organizations already have processes and teams in place to capture consumer insights and conduct competitive analysis. Environmental scanning serves as a bridge to the future, whereas competitive intelligence benchmarks the here and now. Consumer insights tell us about how people behave in the present, whereas environmental scanning looks for signals as to how they will behave in the future. In fact, many organizations begin their futures journeys by layering Strategic Foresight onto their existing insight efforts.
The Micro, or Organizational Environment
The micro environment can represent your organization or a specific focal issue you are exploring. Scanning across the broad macro environment can feel overwhelming, and the identification of a focal issue can help curtail this potential data overload. A focal issue is a decision or question that is critical to the future of your organization right now.
Access a full and complimentary copy of "The Guide to the Nature Foresight® Framework" here.
3 Tips to get started scanning across all three environments of foresight:
Develop a system. You could scan five articles across the STEEP acronym (one social article, one technological article, one economic article, etc.) during each of your scanning sessions, or maybe one article per STEEP category for each day of the week. (The weekend is a time for rest and relaxation!) This scanning practice resource can help.
Conversation is key. Identify a few co-conspirators who will discuss your scan hits with you. Respectfully challenge one another's perspectives so that you can get new ideas that will lead you back down the rabbit hole in your scanning practice. One of the greatest skills in foresight is the development of diverse thinking through dialogue. This scanning team checklist is a great resource.
Kickstart your scanning. Use trend cards as a way to quickly seed your scanning practice. Our Wicked Opportunities trend cards showcase 30 trends across diverse driver categories. Download a set here or order a physical deck from our shop.