Stimulate the Future
Yvette Montero Salvatico, TFS Co-Founder, and Kim Nesbitt, Senior Risk Management Consultant for Halvik and TFS Alumni, engage in a rich conversation in The Future Speaks webcast.
Kim and Yvette cover a wide range of topics, inclusive of the following themes:
Personal Futuring – learn how Kim leveraged her foresight training to navigate personal and professional changes in her life.

The Covid-19 Pandemic – Kim and Yvette spent some time acknowledging the unprecedented situation we collectively find ourselves in, sharing the need for an agnostic perspective and the importance of the formation of innovative private/public partnerships fueled by foresight.

Holistic Risk – As a risk management professional trained in foresight, Kim shares her unique perspective and urgent need for risk managers to embrace a holistic view of the future, inclusive of societal, technological and environmental factors.

Democratizing the Future – Lastly, Kim offers her advice on how we can democratize the future through more expansive education focused less on deep specialization and more on general curiosity across subject matters.
---

The Future Speaks platform offers stimulating thought leadership to the TFS community. The program is a unique apprenticeship that pairs TFS alumni with diverse speaking and writing opportunities. Email us for more information.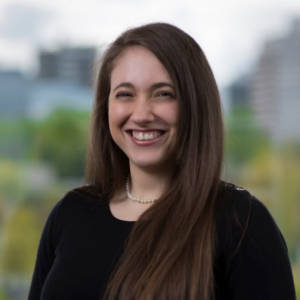 Kim Nesbitt
Futurist and Risk Manager
The Futures School Los Angeles 2018 and Advanced 2019 Alumna
Kim Nesbitt is a Senior Business Strategist for The MITRE Corporation, and brings over ten years of experience providing strategic management, risk management, and strategic foresight expertise to both the private and public sector. Her work has focused on strategic planning, performance management, portfolio management, risk management, enterprise risk management, and strategic foresight; she has used these skills to work with a variety of agencies within the Federal Government. She is currently an active member of the Association for Federal Enterprise Risk Management, and earned her certificate in Strategic Decision-Making and Risk Management from Stanford University.