Design Thinking Must Be Futures Empowered

Leaders and companies often tell me how much they love design thinking. It provides them a tangible way to "think outside of the box" and create new pathways toward innovative action.
However, once they integrate it into their organizational strategy and processes, they also tell me that they feel like a key element is still missing.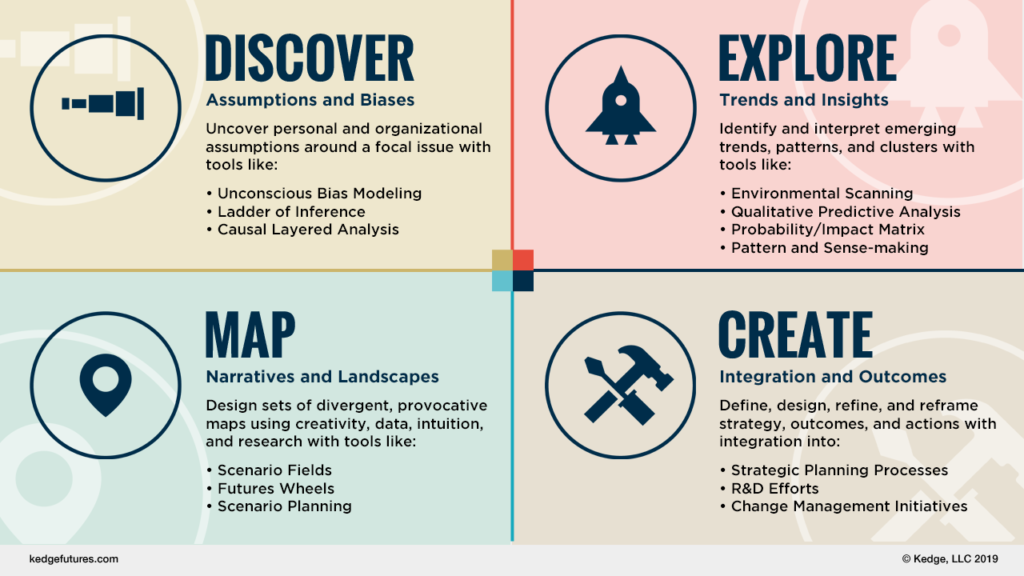 I agree with them that design thinking is a fantastic way to rethink, redefine and reframe problems and solutions, and then I have the privilege of showing them the critical missing element from their design-enabled strategy, innovation and organizational development: Futures Thinking!
Traditional design thinking processes follow a cyclical five-step framework (depending on the source, the number of steps vary):
Empathize (learn about the audience for whom you are designing)
Define (construct a point of view that is based on user needs and insights)
Ideate (brainstorm and come up with creative solutions)
Prototype (build a representation of one or more ideas to show others)
Test (return to your original user group and test your ideas for feedback and improvement)
These steps help organizations to break free from the insulated, bias-laden and linear way of tackling a problem or creating effective solutions. Or do they?
Interestingly enough, futures thinking has promoted similar approaches to problem-solving, strategy development and innovation for at least six decades (and potentially longer, depending on whom you ask). Unfortunately, foresight practitioners have generally failed to understand the power of futures thinking to "design the future" – creating tangible action and outcomes – or they have only desired to leverage foresight and futures thinking to inform and inspire the "front end" of organizational development and processes. However, futures thinking has a far greater application than simply taking a "30,000 foot view" or serving as the annual keynote to get the crowds excited about the latest technological advancements. In reality, futures thinking helps us to "empathize, define, ideate, prototype and test" in a much more holistic, emergent and transformational way than is possible without it. Since futures thinking begins with the future in mind, it allows us to pull ourselves to new possibilities and opportunities in a way that brainstorming and visioning processes grounded in the present cannot achieve. Further, futures thinking can even help organizations to pull the future into the present, completely elevating and reframing the design process far beyond the confines of today's most impactful ideas.
In recent years, foresight professionals have expanded the futures thinking toolkit to include a wider range of methods, infusing the design process with greater creativity by examining multiple alternatives that can lead to unexplored ideas – the hidden gems that are sought after in design thinking. Not only have practitioners created new ways of using "future landscapes" to uncover unforeseen and untapped possibilities, but a host of methods have arisen that help social and organizational leaders to look at the world through a holistic, systemic, and transdisciplinary fashion. These tools create an environment that is conducive to new ways of thinking about the future before attempting to engage in the traditional design thinking process: how it might unfold, how to recognize opportunities and breakthroughs in business and social innovation before they arrive, and how we can intentionally design the future in order to reach the aspirational changes we envision.
As the 21st Century begins to unfold, a new business, economic and social operating environment is emerging and evolving. Likewise, our design thinking and futures thinking practices must evolve as well.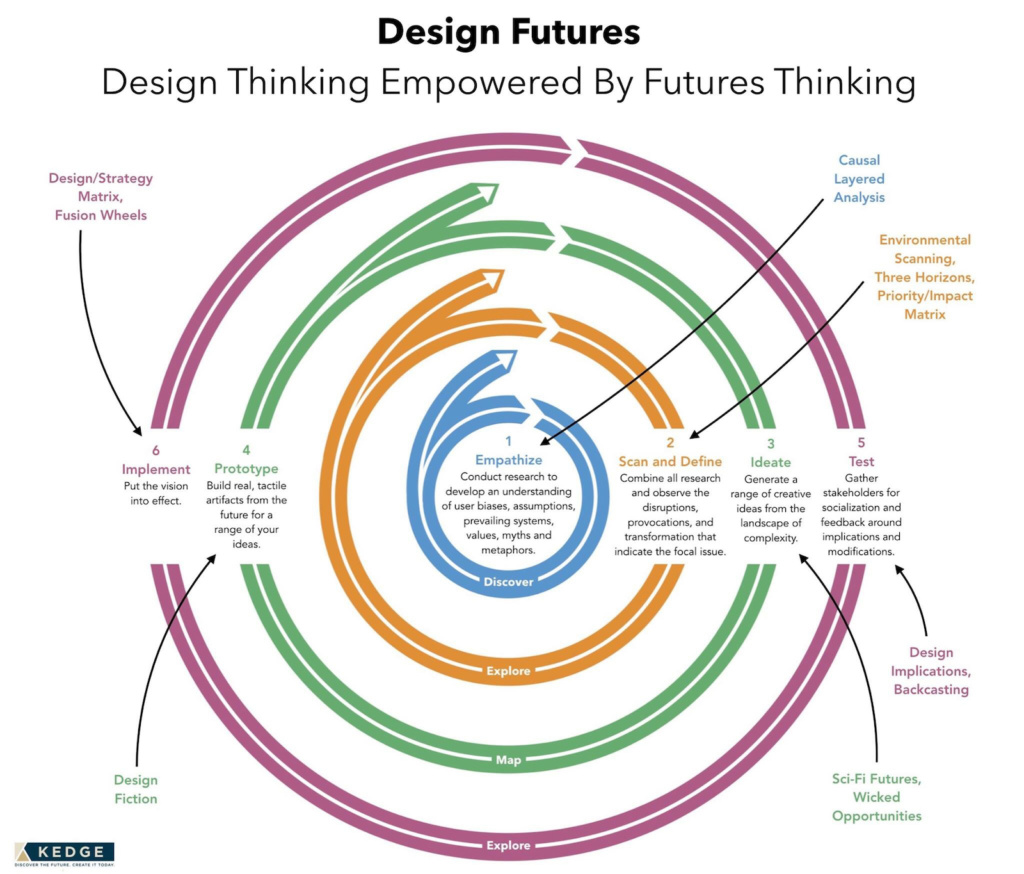 This framework allows leaders, organizations and practitioners to:
Become Future-Empowered: Implement design thinking principles through the lens and operating system of futures thinking.
Design from the Future: Design from the larger landscape of the future rather than the limited and biased present-day mental maps.
Create Generative Roadmaps: Approach design, creativity, strategy, innovation, etc. from a holistic, organic, "circular" and "living" perspective instead of from a mechanical and linear framework.
When we think about design – whether in terms of aesthetics or functionality – there is an embedded understanding of its ability to impact not only the present emotions or actions of those who come in contact with it in terms of organizational development and success, but also the long-term view of everything from political thought to social evolution – even the power to shape the 'big picture' of entire cultures or generations. For this reason, design thinking really requires a foundation in the dynamics of futures thinking to be most effective in reaching its full potential as a tool for creating in our age of uncertainty and complexity. Futures thinking develops the long-range outlook that is necessary for the type of design that is needed for life in the 21st Century: adaptive, resilient and transformational.
Originally written March 8, 2016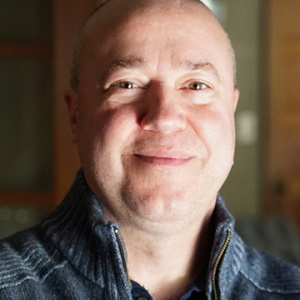 Frank Spencer
Co-Founder
Creative Director
In 2009, Frank founded Kedge – a global foresight, innovation, and strategic design firm which pioneered TFSX. Throughout his career, Frank has worked  as a leadership coach and developer with entrepreneurs, social communities, networking initiatives, and SMEs, helping them in areas such as development, innovation, and networking.
Read More