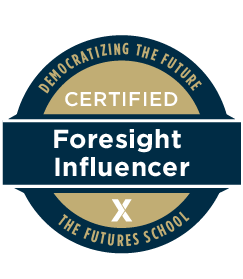 Certified Foresight Influencer Application
Thank you for your interest in pursuing the Certified Foresight Influencer designation.
Candidates who are in good standing of the Certified Foresight Practitioner designation and meet the CFI eligibility criteria are invited to apply.
A $250 USD non-refundable fee is required to submit the application.
TESTING WINDOWS AND DEADLINES
There are no designated testing windows or application deadlines for the Certified Foresight Influencer. Applications are welcome whenever the eligibility requirements are met.
Upon receipt of the application, an interview will be scheduled.
If deemed eligible, the next step is to submit a Portfolio Project Abstract and certification assessment fee deposit.
When the Portfolio Project Abstract is approved, the outstanding certification assessment fee is due.
Certification Fees:
20% Assessment Fee Deposit
Due upon submission of the Portfolio Project Abstract: $300 USD
Remainder of the Assessment Fee:
Due when the Portfolio Project Abstract is approved: $1,200 USD
---
This application should take you a minimum of 45 minutes to complete. Please begin when you have reserved the proper amount of time and have the proper documentation to upload.
If you are submitting under the speaking category, you will need to provide:
Title
Length
Location
Participant Number
Foresight Incorporation
Video Recording or Evaluation
Reference
If you are submitting under the writing category, you will need to provide:
Abstract and/or Research Questions
Inspiration for the piece
Publication
If you are submitting under the APF Emerging Fellows category, you will need to provide:
Year of Completion
Theme / Topic
Influence on your Foresight Practice
Writing Product
APF Letter of Recommendation
If you are submitting under the Foresight Organizational / Institutional / Non Profit Impact Project category, you will need to provide:
Entity Name
Dates
Objectives
Leading Department
Team Member Number
Your Role
Natural Foresight® Incorporation including the Behavioral Domain
Work Product Examples (optional)
Reference