The 4 Best Research Annotation Platforms for Strategic Foresight
We always say that you can be a futurist and never make a scenario, but you cannot be a futurist if you don't scan, scan, scan!
Environmental or Horizon scanning is the lifeblood of Strategic Foresight. Developing a practice and culture of intentionally and purposefully exploring the future in your organization is the KEY to successful strategy, innovation and growth in the short term.
There are many ways to scan. We can conduct ethnographic scanning, leveraging conversations among diverse groups of people about a topic to gain insights to the greater world around them. And there's nothing wrong with breaking out a good-old notebook and writing meaningful reflections about day-to-day experiences. In fact, thinking about the Futures Intelligence Frameworks when out-and-about is certain to build your pattern and sensemaking capacity.
While real-life scanning is valuable, there are some fantastic technological platforms that can support your environmental scanning efforts. But with dozens of annotation and bookmarking platforms on the internet, which of them are best for Strategic Foresight?
We've done the heavy lifting of experimenting with several tools and complied our reviews below. While not an exhaustive list, this article ranks top platforms based on effectiveness for environmental scanning use cases.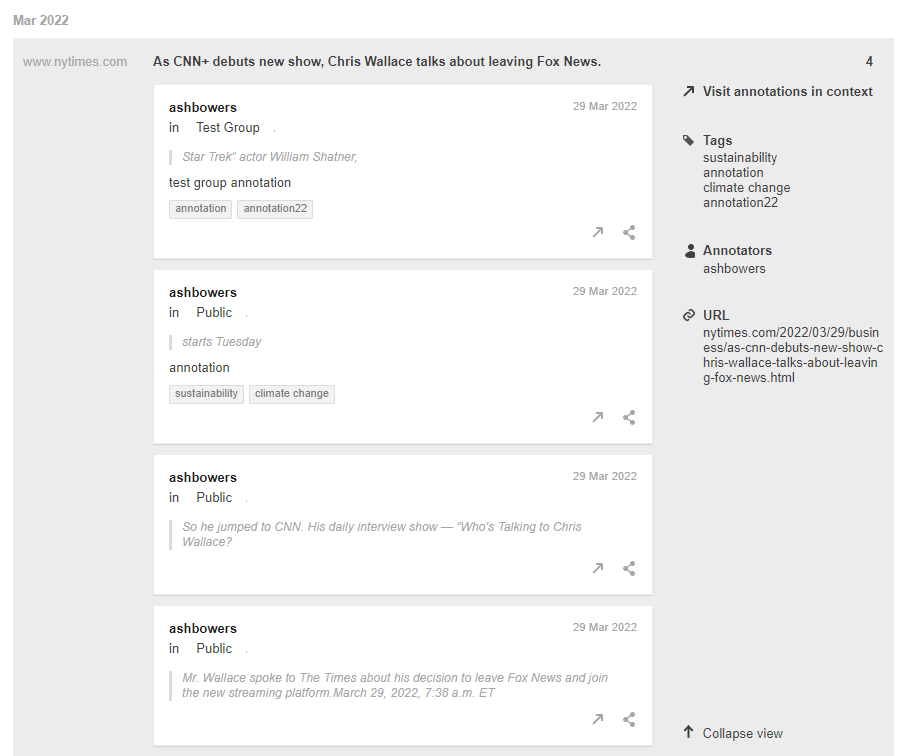 Pro's:
Free, open-source
User-interface is clean and simple
Beginner-friendly
Good for personal scanning
Group capability allows for team scanning
Reply or share to annotations
Invite members via link
"View Annotation in Context" allows users to see a teammate's annotation within the article
Con's:
Group view is not ideal for larger teams
No group tag dictionary (however, you can see a collection of the top tags from the group)
Cannot create group accounts
Groups have little customization options
Members of our alumni community have let us know about Hypothes.is as a fantastic beginner scanning platform. Devoid of any frills, Hypothes.is is indeed effective for annotating anything on the web. More importantly, it supports active reading which is fundamental to robust futures intelligence– making connections and mapping implications.
For a free, open-source platform it most certainly gets the job done. However, it is not the best for team scanning. There is no customization options for groups and no group dictionary. If your team is not as technically proficient and does not need these features, Hypothes.is is a great option.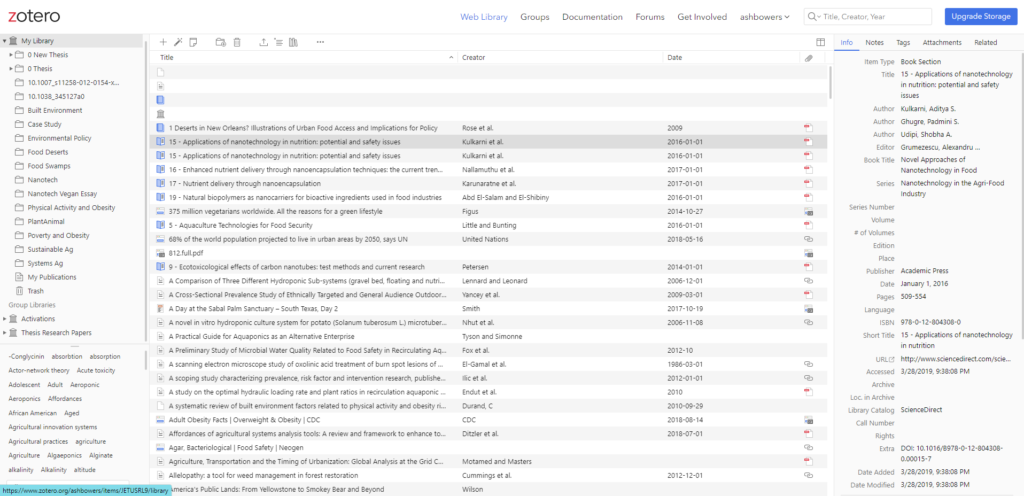 Pro's:
Free, open-source
Fantastic for organizing personal research
Very effective for academic research
User-interface is for expert-level analysis
Instantly create bibliographies in Word, LibreOffice, and Google Docs
Save PDFs to the library
Synchronize library across devices
Desktop app and online browser options
Share library with as many collaborators as you'd like
Tags are automatic
Con's:
No group tag dictionary (however, you can see a collection of all the tags from the group)
Cannot create group accounts
Not beginner-friendly
Difficult to pull thematic analysis
Tags are automatic (this is both a pro and a con, explanation below)
As the author of this article, I have a bias to Zotero. I relied on it for my masters thesis research on aquaponics (as you can tell from the overwhelming screencap). This tool is a godsend for academic researchers, allowing for peak organization and searchability. Don't even get me started on the automatic bibliography- holy cow did I use that often. There isn't another free software out there that is as good for deep-diving research as Zotero.
Zotero is not ideal for beginners or large teams because the interface is more focused on the media itself, not the insights from the scanner. Remember that scanning is about the surrounding observations and connections that the scanner provides through digesting the work. Zotero is a very objective platform- in my opinion, it is best for saving and referencing academic research. It is wonderful that it automatically pulls relevant tags so the user can easily find all the articles pertaining to "poverty", without manually tagging each entry. However, this automated feature is not great for our purposes, as it takes away the mental processing that is critical to successful scanning.
Pro's:
User-interface is quite beautiful and customizable
Nested collections, tags, and filters allow for a very organized library
Multiple view options for bookmarks
Complex integration with Twitter, IFTTT, Zapier, and API
Automatic webpage copy saving
Multi-media capabilities- save songs, movies, podcasts, and more
Merge tags to allow for tidy tag organization
Con's
Free version has ads
Freemium- free for most features, upgrade for premium features (including annotation)
No group account creation
Not beginner friendly
Customer service / tech support is difficult to contact
Raindrop.io is a tough platform to evaluate. For many people, this is the perfect software for environmental scanning. The fact that groups can see what you think about media other than articles makes it an enticing option for our purposes. After all, the world is bustling with information, and truly any media or experience can offer a wealth of interesting insights. The easy interface includes a lot of customization which is great for creatives that enjoy those personalized touches. Use Raindrop's social networking feature to create and share collections or find and subscribe to others' collections.
This software is usable with the free version, but many of the terrific features offered are in the paid version. It's fairly affordable at only $28/year, so if customization and multi-media scanning are worth the price, Raindrop.io may be worth looking in to. It's worth mentioning that through researching reviews, several users mentioned that tech support is difficult to get a hold of, so if customer service is important to you (likely it is if you have a larger or organization-wide scanning effort), then consider another platform.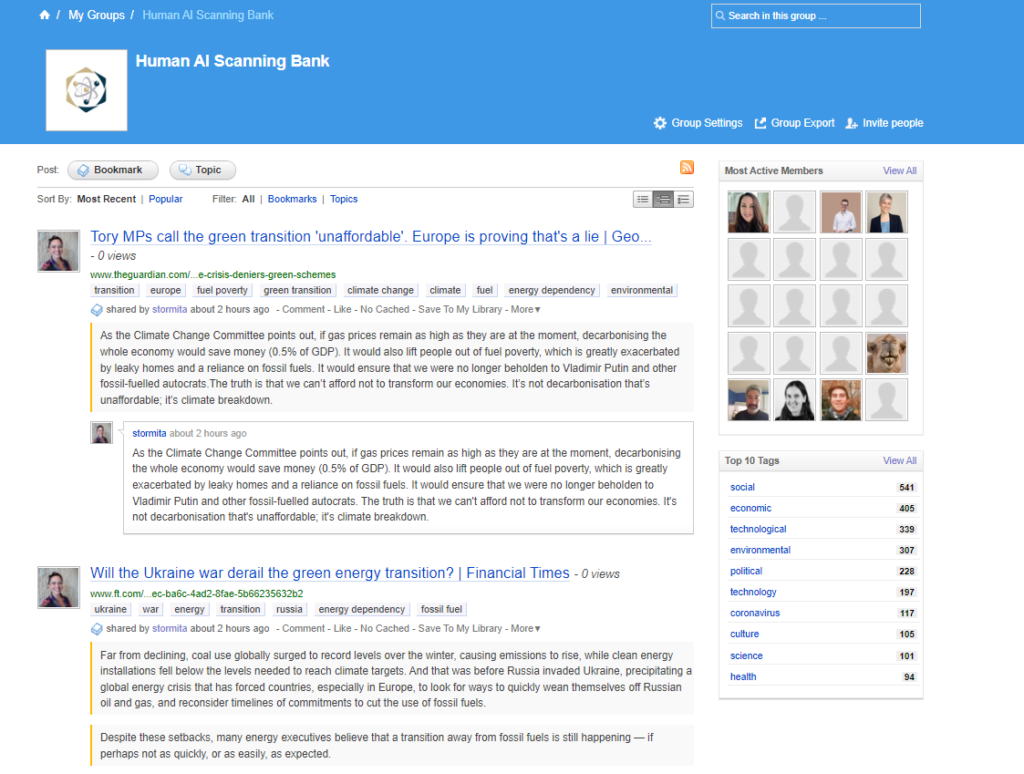 Pro's:
Reinforces a collaborative approach to scanning
Beginner-friendly
Extension works across all browsers and devices (mobile app as well)
Highlight, annotate, tag, and describe offer deep analysis of media
Although it can require manual input, users may scan any media
Group dictionary keeps tags concise
"View All" tags option allows for pattern and sensemaking
"Group Export" allows for a csv file of all group / library data
"Group Account Creation" makes it easy to start a scanning team
"Post Topic" allows for discussion around ideas and concepts not tied to an article.
Annotate PDFs
Con's:
User-interface not modern
Freemium-free for most features, upgrade for premium features (including unlimited bookmarks, tags, etc.)
Certain features might be restricting (i.e. the "Outline")
Diigo is a great scanning platform of choice because of a few key reasons: 1) The Group capabilities on Diigo are great. You are able to create group accounts for our programs and custom engagements, so everyone can get to scanning swiftly and painlessly. Permissions can be adjusted for each member to allow for owners, moderators, and members. 2) Diigo's leadership experienced foresight training, so they had the opportunity to integrate fundamental features to support environmental scanning 3) Our organization's scanning repository goes back nearly a decade, and we have not come across a platform that not only has all the features we require, but also seamlessly carries over our existing data.
Of course, no platform is perfect and Diigo has its flaws. The "Outline" function is cool in theory, but it has enough hiccups that we don't incorporate it into our programming. The free version is quite limiting, but if you're willing to invest in the member fees, the features are quite effective for Strategic Foresight teams.
Honorable Mention: MURAL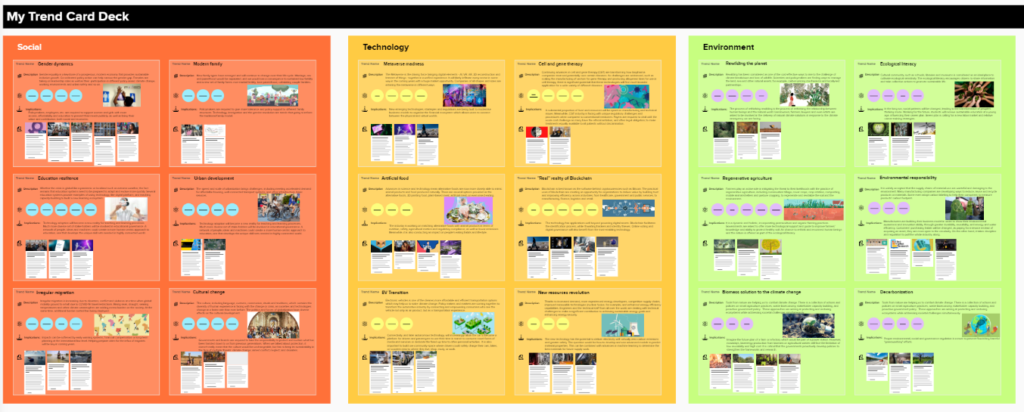 Although MURAL is not designed as an aggregation platform, it is awesome for creatives who want a lot of space for building trends and patterns. Remember that trends and patterns are not just occurrences, they are clusters of qualitative and quantitative information. MURAL is a great tool for assembling images, values, descriptions into larger landscapes of change. Our Trend Card Deck MURAL template allows users to actually save all this information in a tidy, hyperlinked PDF so the trend cards are actually shareable and themselves can be built into larger clusters. We've also used MURAL for immersive pattern presentations, showcasing videos and scan hits that support our futures intelligence with present-day evidence. Below is an example of our pattern cluster map built in MURAL, and these are effective at highlighting the overlap between these constellations. It's also worth mentioning that we love MURAL and heavily rely on it for all of our engagements, virtual and physical!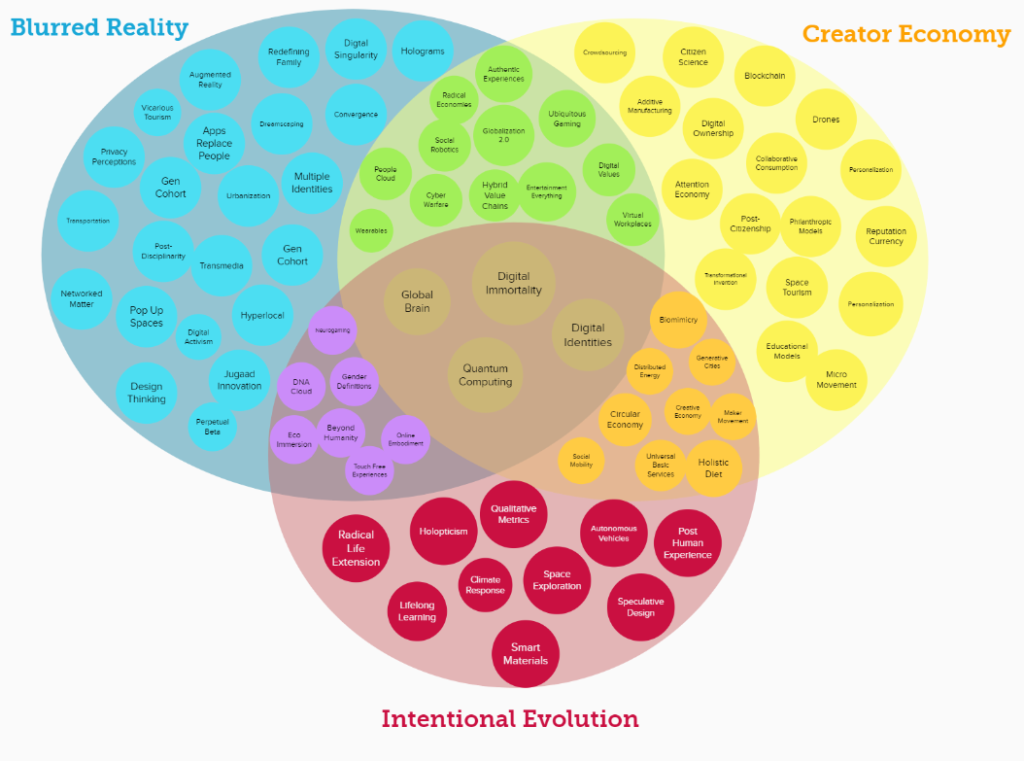 What scanning platform is your favorite? Share this article and let us know your thoughts, we'd love to learn more about how people are practicing scanning.
Find more resources to support your futures efforts in our Shop.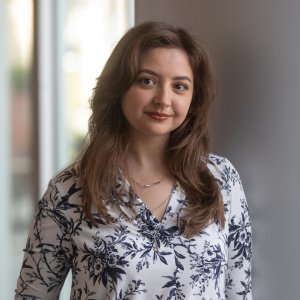 Ashley Bowers
Creative Strategist, TFSX
Ashley leverages her expertise in sustainable design, environmental science, and marketing to support user-experiences with a holistic approach. Her goal is to empower changemakers, organizations, institutions and governments to thrive in a world of exponential uncertainty and complexity.
More on Ashley