Imagination Literacy: World Building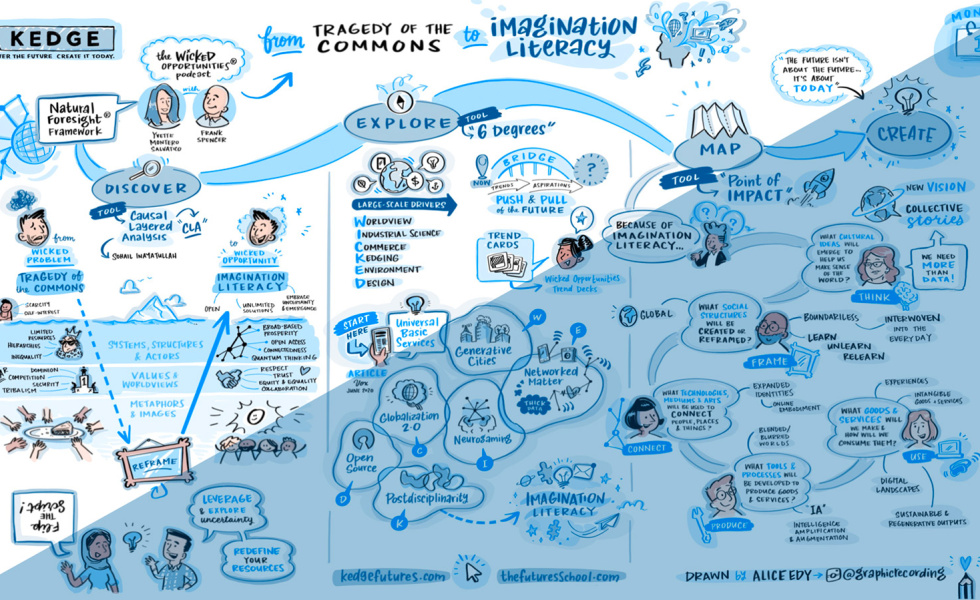 This month the Wicked Problem is Tragedy of the Commons, the prevailing problem of scarcity of natural and human resources. We've reframed this complex problem as the Wicked Opportunity of Imagination Literacy. Rather than imposing the fixed ideas about our present-day disciplines, industries and practices on the future, Imagination Literacy suggests we must remain open to learning, unlearning and relearning as a means to co-creating novel capabilities and approaches.
CONTENT 1: WICKED OPPORTUNITY PODCAST
When systems are in flux and the world is transitioning to a new way of thinking and acting, it important that we consider how humanity will be redesigned, how we will reframe the world around us, and what novel responses we will offer. Listen in as Yvette and Frank put the finishing touches on a pathway toward Imagination Literacy through the use of five futures-focused questions known as the Point of Impact. These questions drill down on the implications of Imagination Literacy to our global sense-making, connective abilities and creative processes to unveil an exciting map of untapped potential.
CONTENT 2: INFOGRAPHIC
Futures mapping is an incredibly powerful tool due to its ability to immerse people and organizations into future probabilities, possibilities, and aspirational outcomes. This week in REFRAME Magazine we've built a robust map informed by our previous weeks of discovering and exploring Imagination Literacy.
View the full map to see what we discuss in this week's podcast, the Point of Impact questions, to envision a world impacted by Imagination Literacy!